"We were on a break!!" is probably one of the most infamous running gags that F.R.I.E.N.D.S ever did – so let's decide if they were, or not…
If you've seen Friends, you don't really need a rundown but here it is anyway:
Six friends who live in NYC navigate their twenties together. Love interests and drama (of course), careers, and of course coffee and Central Perk.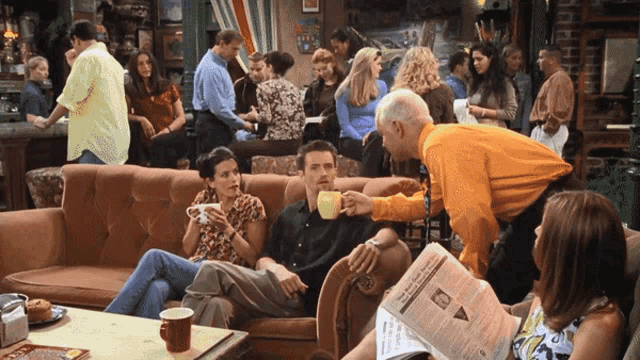 Okay, now that we have that out of the way, the debate of 'we were on a break' comes from the romance between Ross and Rachel.
They were dating, and when they started arguing about Ross' jealousy and insecurity in their relationship regarding Mark (a work colleague of Rachel's), and her new job taking a lot of her time…. they took a break?
>>>Get a copy of my ebook KIDNAPPED Entanglement >>>here
Okay, so technically Rachel yelled at Ross that 'maybe' they should take a break from "us". Instead of staying and discussing what she meant about that and why she thought so, Ross just leaves without a word. Immaturity aside, it would have been a pretty hurtful thing to hear, so we'll give him that.
Distraught at having thought he lost his girlfriend, Ross heads out to a bar and starts drinking with Joey and Chandler (a horrible idea really) and ends up sleeping with a girl from the copy place. When Rachel calls the next morning to apologise for her side of the fight, and confirm she doesn't want to take a break (just a heat of the moment comment really), he panics and tries to keep the dalliance from her.
When she finds out though, his only defence was that he thought they had broken up. Unfortunately for Rachel though, it was enough of a betrayal that she couldn't see their relationship the same way, and they break up (for the first time… these guys DEFINED on again-off again).
Okay, so all exposition aside, WERE THEY ON A BREAK?
As far as I'm concerned – No. They weren't.
Ross didn't even confirm what 'MAYBE we should take a break from us' meant. He just left the room and assumed the worst. He 1 million percent should have confirmed that was what she thought. There was absolutely no clarification of what that was.
Second, even if it was a break – it doesn't mean jump into the sack with someone a few hours later. That's just a stupid reaction which (obviously) won't end well. If someone really does want to take a break, it should be a time for you both to reflect on the relationship and what you want out of it – NOT A HALL PASS.
Thirdly, neither of them officially agreed that they should 'take a break' – it was just a SUGGESTION. Rachel said 'maybe' which is clearly a potential that she is raising. When Ross didn't continue with the conversation and ask any numerous questions like:
Do you WANT to take a break?
Why do you want to take a break?
Why do you think we should take a break?
What does 'take a break' mean for us?
Well, do you agree with me? Maybe not… share why below!
---
If you want to read my book, head to the link >>>here for the KIDNAPPED Entanglement eBook, OR get the paperback direct from me for the cheapest price!
See You in The Adventures!
---

You can check out my blog feed for all the CGSP posts, stories and more >>>here
To KEEP UP with all the stuff I have going on, you can catch my weekly updates, FREE Hannah Carmichael eBook, & monthly NEWSLETTER by heading >>>here