Type until your fingers bleed has never had such a vivid meaning… until now!
I always thought that saying (until your fingers bleed) was silly… until I started using a typewriter.
It was the most unusual experience to be typing away (quite quickly, I should add – thanks touch typing training!) and realise that I'm smearing blood from my fingers onto the keys. It comes down to how quickly, and how forcefully I type I suppose…
However, even with the hand cramps, the bleeding, and the ribbon jamming and running out too quickly – I love using a typewriter! So much, that I'd even do the Jerry Lewis classic typewriter without a typewriter sketch…
It seems a dying art these days, but there's just something about using a typewriter vs a modern keyboard. I use Apple computers, so my keyboards are usually thin and flat, with not a lot of bounce between keys. Of course, I could always plug another type of keyboard into my computer, but what's the point of that?
Truth is, I do like using a computer keyboard too, but when it comes to first drafts – typewriters all the way!!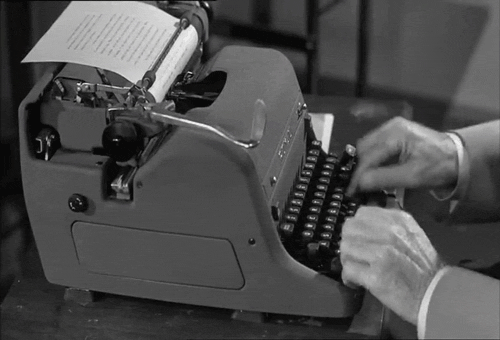 Would you like to hear the clacking of keys, and risk the bleeding, of a typewriter session?
---

To KEEP UP with all the stuff I have going on, you can catch my weekly updates, FREE Hannah Carmichael eBook, & monthly NEWSLETTER by heading >>>here